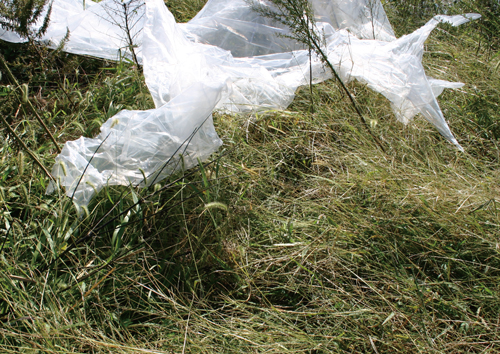 Haruko Sasakawa solo exhibition
ROBOTS
May 8 - 24, 2015 → Extension | until May 31 (closed on 27 and 28)
11:00-19:00  open every day during the exhibition
Venue | Yoshimi Arts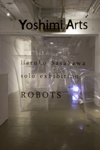 EXHIBITION VIEW ≫

Presenting Haruko Sasakawa's solo exhibition "ROBOTS" at Yoshimi Arts.
Haruko Sasakawa has a very critical eye for what is happening in our society, her art work is a visualization of her unique perspective traced straight into reality. She attempts to elicit and illustrate real phenomena in an indirect way, repurposing them into original and surprising expressions.
This last March she presented a new interactive installation for her solo exhibition "AD" in our booth at the Art Fair Tokyo 2015. Recently she has been working in the theme of traditional artistic depictions of war, and from her research with war art from the past, she has been inspired to explore potential war art for the future from her the perspective that these war depictions will become more pop entertainment and advertisement than representations of reality and horror. For her interactive installation, two models are drawn enjoying a picnic, alongside a set of objects that replicates the picnic inside the picture. The scene also serves as a photo booth as the audience might enjoy taking photographs of themselves inside the same scene as the image. However the undertones of this interactive installation creates an unsettling sense that somehow this idyllic picnic is neglecting its own role in the larger world, and therefore inadvertently allowing war to erupt.
The boundary between imagination and reality is a common theme for Haruko Sasakawa, ever since the early years of her career as an artist. "Hollow Fighter" is one such representative work, originally presented in 2009, it plays with the usual strong and brave figure of a robot warrior, but flips that pre-conception by making the warrior out of soft transparent plastic. This work has reappeared in the group exhibition "floating view - new artists from suburbia" Tokyo Wonder Site Hongo) in 2011. The robot modeled from thin vinyl, muddles imagination and reality, and surprises us by subverting our own expectations towards fiction. "Mr. Polygon" (2009) is a photographic work, which looks an impervious robot created in an imaginary world, and wonders how it would hold up in our real world, turning this fantasy object into a real object made of plastic and throwing it into a river.
Sasakawa's works, including her main work "Hollow Fighter", will be reconstituted in this exhibition at Yoshimi Arts. Sasakawa's robots might tell us something about the new narrative of this world, where imagination becomes reality, and robots which often appear in anime and pop culture, are produced in our actual world, and becoming more familiar for us as technology advances.
We look forward to your visit.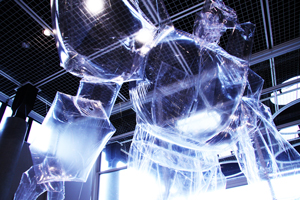 image: Hollow Fighter 2009
Haruko Sasakawa  artist page ≫
1983
Born in Osaka, Japan
2005
Graduated from Department of 3DCG, Digital Hollywood
2009
Tokyo University of the Arts, B.F.A. in Inter Media Art
2011
Tokyo University of the Arts, M.F.A. in Inter Media Art
Student at Doctoral program in Inter Media Art, Tokyo University of the Arts
Currently lives and works in Ibaraki, Japan
Solo Exhibition
2015
Haruko Sasakawa solo exhibition "AD" (ART FAIR TOKYO- Yoshimi Arts/Tokyo Internatinal
Forum/Tokyo)
2013
"Study Room no.6221"- Documentation (Yoshimi Arts/Osaka)
"Study Room no.6221" (ART OSAKA-Yoshimi Arts/Hotel Granvia Osaka/Osaka)
2012
"For Your Safety M, ltd」OVER THE BORDER" (Art LAB OVER THE BORDER/Tokyo)
"case.D" (Yoshimi Arts/Osaka)
"case.C" (ART OSAKA-Yoshimi Arts/Hotel Granvia Osaka/Osaka)

"case.A" (Yoshimi Arts/Osaka)

Group Exhibition
2014
"Material and Form" in a digital age (Yoshimi Arts/Osaka)
"Art Court Frontier #12" (ARTCOURT Gallery/Osaka)
2013
"The shiny future exhibition 2013, THE HUMANISATION" (Tokyo Metropolitan Art Museum
/Tokyo)
"Figurative Abstraction" (Yoshimi Arts/Osaka)
Insight 8 "Figurative" (Yoshimi Arts/Osaka) 
2012
"Primitive [ in order ]" (Yoshimi Arts/Osaka)
2011
"the Civilization" (Ginza Seiou Gallery/Tokyo)
"Dessin / Écriture" (SPROUT Curation/Tokyo)
"floating view2 Topophilia Update" (Shinjuku Ganka Gallery/Tokyo)
Insight "Repetition II" (Yoshimi Arts/Osaka)
Insight "Repetition" (ART OSAKA - Yoshimi Arts/Hotel Granvia Osaka/Osaka)
"Art Award Tokyo Marunouchi 2011" (Gyoko-dori Underground Gallery/Tokyo)
"floating view - new artists from suburbia"  (Tokyo Wonder Site Hongo/Tokyo)
2010

"The shiny future exhibition 2010, The Globalization By Haruko Sasakawa×BARBARA

DARLINg" (Tokyo University of the Arts/Tokyo)
2009
"No Man's Land MEMENTO VIVERE/MEMENTO PHANTASMA" (French Embassy's

Previous offices before their Destruction/Tokyo)

2008
"SOUND & VISION vol.3"  (ZAIM/Kanagawa)
2007
"HIGURE 5th Anniversary Exhibition"  (HIGURE 17-15 cas/Tokyo)
Award
2015
Japan Arts Scholarship, Japan Arts Foundation
2011
M.M Prize (on website "artscape")
2010
Murata Makoto Prize (on website "artscape")
2007
Ataka Prize, Tokyo University of the Arts
Public Collection
Japigozzi Collection