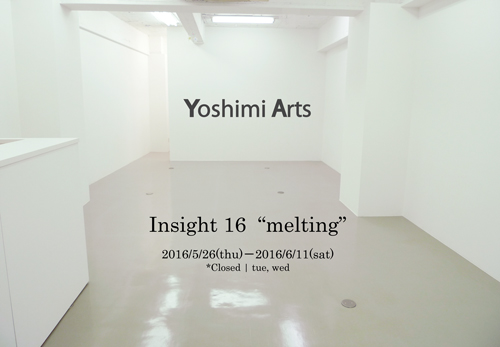 Insight 16 "melting"
Yugo Kohrogi / Minako Nishiyama / Haruko Sasakawa / Miki Sato
May 26 - June 11, 2016
11:00-19:00 Closed on Tue, Wed
Yoshimi Arts
Yoshimi Arts is delighted to present the exhibition "Insight 16".
"Insight" is a regular exhibition featuring works by the artists of Yoshimi Arts that have been held since 2010. All works are categorized in accordance with the theme of each exhibition, attempting to reveal "Insight".
The state of the melting things or something reminding us of melting appeals to our body directly. It has both positive and negative things. This time we will exhibit the works of 4 artists with a theme of "melting".
Artists
Yugo Kohorogi ≫
Haruko Sasakawa ≫
Miki Sato ≫
Minako Nishiyama (Japanese page) ≫