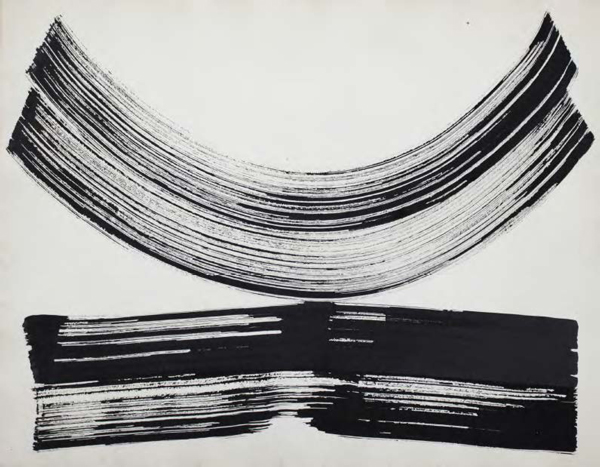 Shigeru Izumi "Drawings 1960's"
Aug 24 (sat) - Sep 8 (sun), 2019
Venue | Yoshimi Arts, the three konohana (collavorative exhibition)
Yoshimi Arts
11:00-19:00 (sun -17:00)
Closed on mon, tue
Wakasa Bldg. 3F, 1-8-24, Edobori, Nishi-ku, Osaka
Osaka Metro Yotsubahi Line "Higobashi" Sta.: walk 1 minute
Midosuji Line "Yodoyabashi" Sta.: walk 5 minutes
the three konohana
12:00-19:00 (8/24(sat) -16:00)
Closed on mon, tue, wed
Hanshin Namba Line "Chidoribashi" Sta.: walk 3 minutes
Hanshin Namba Line/JR Circle Line "Nishikujo" Sta.: walk 9 minutes
http://thethree.net
Yoshimi Arts and the three konohana are pleased to present the works of Shigeru Izumi (1922-1995) together again, for the first time in two years.
Two years ago, both galleries exhibited his paintings from the 1970's until his final years in the 90's, and last year Yoshimi Arts exhibited his works from the late-60's to the early 70's. As part of an ongoing project of reflecting on and reevaluating the work of Izumi, this exhibition will focus on his drawings from the 1960's, with 20 works shown between the two venues.
Izumi had established a reputation in Japan as a printmaker during the 1950's, when he founded the Democratic Artists Association with Ei-Q and Yoshio Hayakawa. Thereafter, he moved to New York, and then to Paris for 10 years from 1959, during which time his work would change greatly. The abstract expressionism movement was slowly transitioning to pop art in New York, and in Paris he came in contact with the art informel movement.
These experiences deeply influenced him and he began to create works that reconsider the essence of the act of drawing. The drawings presented in the exhibition were made by Izumi during his time in Paris, until just after he returned to Japan. These were studies for his "Blue Series" and "Stroke Series" which he exhibited in Paris, and they show us how he dedicated himself to deconstructing the brush stroke to reconstruct a new picture. Due to their purpose as studies for paintings, these works have never been exhibited during his lifetime. Observing the drawings created by Izumi during a crucial turning point in his life gives us the rare opportunity to understand the transitions of his unique artistic practice.
image|ink on paper 57.4 x 44.1 cm c.1969 [exhibited at Yoshimi Arts]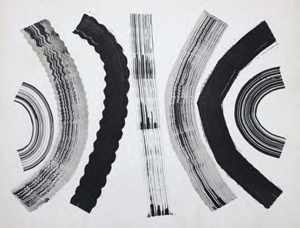 ink on paper 66.3 x 50.2 cm c.1966 [exhibited at the three konohana]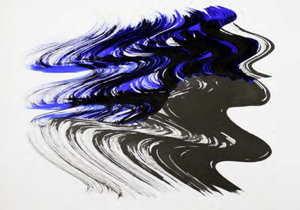 ink and watercolor on paper 54.8 x 39.6 cm c.1969 [exhibited at Yoshimi Arts]
Shigeru Izumi

1922

Born in Osaka City.

1939

Graduated from Craft and Design Course, Osaka City Kogei School

1951

Established "Democratic Artists Association" (~'57)

1959

Visited to America and became a guest professor of the print factory "Pratt Institute" in New York (~'62)

1963

Immigrated to Paris (~'68)

1970

Became a professor at Fine Arts Department, Osaka University of Arts (~'92)

1995

Died.

Exhibitions (lifetime)

1957

"The 1st Tokyo International Print Biennale"(won the Newcomer's Award)

"The 4th Bienal International de Artes de São Paulo" (Brazil)

1965

"The Japanese New Painting and Sculpture" (circulated eight museums In the U.S.A. including The Museum of Modern Art, New York) (~'67)

1975

"Art Now'75" (Hyogo Prefectural Museum of Modern Art)

1978

"Series 'Today's Artist', Shigeru Izumi -after 1963-" (Osaka Prefectural Gallery)

1980

"Shigeru Izumi Solo Exhibition" (Ban Gallery/Osaka) (※'81, '84, '87, '92, '93, '94)

1983

"Kansai Artists Series 1, Waichi Tsutaka・Shigeru Izumi・Hideo Yoshihara" (The Museum of Modern Art, Wakayama)

1986

"Ei-Q and the surroundings" (circulated three museums including The Museum of Modern Art, Saitama)

1993

"Sadajiro Kubo and artists - postwar, early prints" (Machida City Museum of Graphic Arts /Tokyo)

1994

"Kansai Art 1950's~1970's" (Hyogo Prefectural Museum of Modern Art )

Exhibitions (retrospective)

1996

"Shigeru Izumi" (Itami City Museum of Art/Hyogo)

1998

"Shigeru Izumi-Early prints" (The Museum of Modern Art, Wakayama)

1999

"DEMOKRATO 1951 ~ 1957 -The Liberation of Art in Postwar Japan―" (circulated three museums including The Museum of Modern Art, Wakayama)

2005

"IZUMI Shigeru: a retrospective" ( The Museum of Modern Art, Wakayama)

2006

"Photographs of Shigeru Izumi" (The Museum of Modern Art, Shiga)

2012

"Shigeru Izumi Special Exhibition" (Sakai City Cultural Hall Gallery/Osaka)

2015

"Prints Travelogue of Shigeru Izumi on the 20th anniversary of his death" (BB Plaza Museum of Art/Hyogo)

2016

"Prints of Shigeru Izumi"(The Tokushima Modern Art Museum)

2017

"Handsome Heart, Handsome Art: The World of Izumi Shigeru" (The Museum of Modern Art, Wakayama)

Shigeru Izumi "PAINTINGS 1971-93" (Yoshimi Arts, the three konohana/Osaka)

2018

"Shigeru Izumi 1960-70s" (Yoshimi Arts/Osaka)

*including the titles translated by us

Collection

The Museum of Modern Art, Wakayama; The National Museum of Art, Osaka; Itami City Museum of Art; Osaka City Museum of Modern Art; Osaka Prefecture; Sakai City; Hyogo Prefectural Museum of Art; The Tokushima Modern Art Museum; The National Museum of Modern Art, Tokyo; The Museum of Modern Art, Saitama; Miyazaki Prefectural Art Museum; Machida City Museum of Graphic Arts; The National Museum of Modern Art, Kyoto; Musée d'art moderne de la Ville de Paris; Carnegie Museum of Art; The Museum of Modern Art