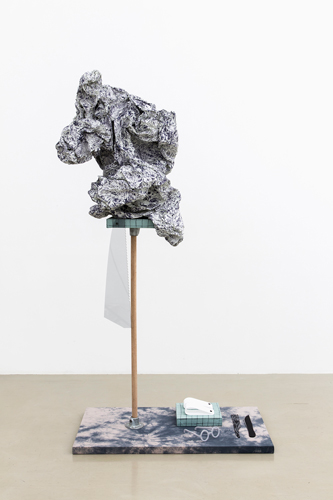 Art Fair Tokyo 2016
Rachel Adams
Public Open |
May 12 Thu. 14:00-21:00
May 13 Fri.  12:00-21:00
May 14 Sat. 10:30-17:00
Venue | Tokyo International Forum Hall E
      Booth No.S01-6 Yoshimi Arts
5-1 Marunouchi 3-chome, Chiyoda-ku,Tokyo 100-0005 Japan
Art Fair Tokyo Website | http://artfairtokyo.com/en/
Admission Fee | 1-DAY Passport 2,500JPY Advance 2,000JPY
           3-DAY Passport 4,500JPY Advance 4,000JPY
We are pleased to announce our participation to the "Art Fair Tokyo 2016". This time, we were selected for the section "PROJECTS" in this fair and will present British artist Rachel Adames' solo show at our booth.
Our Encounter with Rachel Adams focused on the sculpture work she presented in the group exhibition "Paper" held in 2013 at Saatchi Gallery in London. The work appeared to possess the features of classic bronze and stone sculptures, but we perceived something strange with the sculpture's sense of weight. As one looked at it closer, the sculpture was composed with colored paper, which impressed us deeply with this unprecedented use of a familiar material. She participated in our group exhibition "'Material and Form' in a digital age" and had her solo exhibition "Open Studio" at our gallery in 2015. Then she is staying and working in Roma from October 2015 as the recipient of the Sainsbury Scholarship in Painting and Sculpture by the British School at Rome.
Influenced by sculptural history of the 20th century Adams has been considering images of the sculptor's studio and the sculptor at work. Alongside this she has been drawing on images from contemporary furniture and lifestyle blogs. Using hand dyed fabric, digitally fabricated acrylic shapes and traditional sculptural tools, this new series of sculptures aims to highlight contradictions in both our perceived notions of history and hierarchical structures separating art from design.
For this fair, we will present her sculptures associated with sculptor's studio and the works for wall, which will lead you into somewhere between art and design or between two dimension and three dimension.
image | "Open Studio 1" 2015
paper, gouache, oak dowel, MDF, fabric, laser cut acrylic, scaffolding knuckles 85×50×h.160cm
Rachel Adams ≫
1985
Born in Newcastle upon Tyne, UK
2009
MA in Fine Art University of Edinburgh and Edinburgh College of Art
Lives/works in Glasgow, Scottland, UK
 
Solo exhibition
2015
"Open Studio" (Yoshimi Arts/Osaka) ≫
2014
"How to live in a flat" (The Tetley/Leeds)
"Long Reach" (domobaal/London)
2013
"Suburban Mystic" (The Lombard Method/Birmingham)
"Space–Craft" (Tramway 5/Glasgow)
2012
"Posturing" a solo project within The Sculpture Show (Scottish National Gallery of Modern
Art/Edinburgh)
"Refurnished" (Galerie de Expeditie/Amsterdam)
2011
"Cut From Whole Cloth" (domobaal/London)
 
"Marble Mouthed" (The Duchy/Glasgow)
 
Group exhibition
2016
"March Mostra" (British School at Rome/Italy)
2015
"December Mostra" (British School at Rome/Italy)
"Finite Project Altered When Open" (David Dale Gallery & Studios/Glasgow)
2014
"£1 Fish" (S1 Art Space/Sheffield)
"Vivarium" (Model/Liverpool)
"Material and Form" in a digital age (Yoshimi Arts/Osaka) ≫
"Mood is Made / Temperature is Taken" (Glasgow Sculpture Studios /Glasgow)
 
"Micro Residents exhibition" (Edinburgh Sculpture Workshop/Edinburgh)
2013
"Rock Paper Scissors werk op en van papier" (Galerie de Expeditie/Amsterdam)
"Commissioned Artist" (The Collection/Lincoln)
"Game Changer" (Meadowbank Stadium, curated by the Collective Gallery/Edinburgh)
 
"Paper" (Saatchi Gallery/London)
"Costume: Written Clothing" (Tramway 5/Glasgow)
 
"Title" (Newbridge Space/Newcastle upon Tyne)
 
"Jesmonite on Paper" (Malgras Naudet/Manchester, A3/Birmingham)
2012
"Pavilion" (David Dale Gallery & Studios/Glasgow)
 

"Arrives in Starting part of Glasgow International" (The Duchy/Glasgow)

2011
"LABF" (Whitechapel Gallery/London, domobaal/London)
 
"Look with all your eyes, Look" (Frith Street Gallery/London)
"Outpost Summer Fayre" (Am Nuden Da, Embassy, Grand Union, OUTPOST, Permanent
/Norwich)
"The Chalet Prize" (The Chalet/Glasgow)
Award
2015
Sainsbury Scholarship in Painting and Sculpture (full year), The British School at Rome, Italy
2014
Henry Moore Foundation Project Funding
Creative Scotland Award
Arts Trust Scotland Award
2012
Visual Arts & Crafts Award (Edinburgh City Council)
2009
Visual Art creative and professional development grant (Scottish Arts Council)
Visual Arts & Crafts Award (Edinburgh City Council)
Andrew Grant Award (Edinburgh College of Art)
 
Collection
Saatchi Collection, David Roberts Collection, Jo en Marlies Eyck, Hedge House, The Netherlands