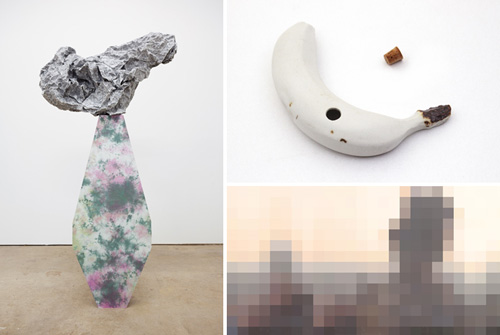 "Material and Form" in a digital age

Rachel Adams/Keigo Kmaide/Haruko Sasakawa
Sep 26- Oct 19, 2014 Extension | until Oct 23
11:00-19:00 every day open during the exhibition
Opening reception | Sep 26, 18:00-
The artists will be at gallery | Sep 26
Venue | Yoshimi Arts
Cooperative gallery | domobaal (London)

Japanese artists have been fascinated by Western culture since the Meiji period, borrowing and emulating its ideas while creating uniquely Japanese works. The new concepts of contemporary Western art of the 1950s were especially influential and have remained important over the past 60 years.  Examples of this were the GUTAI and Mono-ha art groups. GUTAI was influenced by the abstract expressionism of the United States, but approached the genre with a physical sensation and nature that was specific to Japanese culture. Mono-ha was an anti-modernist movement whose members used basic materials such as rocks, wood, and cotton to reflect the Zen idea that one can find the origin of the universe in a tiny space or in objects and things that were discarded.
We believe that the emerging generation of Japanese artists are again giving a new expression to the rich culture of Japan through its current interpretation of the contemporary art of Western Europe.  At the same time, we see Japanese culture being reflected in the works of Western artists, especially through the treatment of Japanese materials -- of which paper is extremely important -- and through understanding of the concepts of Japanese architecture with its reflection of nature: a structure is formed from a tree (pillars), mud (walls), and paper (for doors and partitions).  No wall exists between rooms, and the paper-framed doors open and close by sliding, never separating the structure from the external world entirely.
The Material and Form exhibition will feature the works of Japanese artists Keigo Kamide and Haruko Sasakawa, and British artist Rachel Adams.
In it, we will explore the relationship between material and form in the three artists' works, how these works reflect the history, society, and environment of each country, and what is the essence of the interplay between them.
Image (exhibited works)
Left | Rachel Adams Conformist
dyed fabric, starch, timber, waxed paper w650×d450×h1300mm 2014
courtesy domobaal photo Patrick Jameson
Upper rightr | Keigo Kamide Banana with Hole
porcelain, cork about160×80×h30mm 2014
photo Keigo Kamide
Right | Haruko Sasakawa d.h. (tentative title)
video 2014

Rachel Adams     artist page ≫
1985
Born in Newcastle upon Tyne, UK
2009
MA in Fine Art University of Edinburgh and Edinburgh College of Art
Lives/works in Glasgow, Scottland, UK
 
Solo exhibition
2014
"How to live in a flat" (The Tetley/Leeds)
"Long Reach" (domobaal/London)
2013
"Suburban Mystic" (The Lombard Method/Birmingham)
"Space–Craft" (Tramway 5/Glasgow)
2012
"Posturing" a solo project within The Sculpture Show (Scottish National Gallery of Modern Art
/Edinburgh)
"Refurnished" (Galerie de Expeditie/Amsterdam)
2011
"Cut From Whole Cloth" (domobaal/London)
 
"Marble Mouthed" (The Duchy/Glasgow)
 
Group exhibition
2014
"Mood is Made / Temperature is Taken" (Glasgow Sculpture Studios /Glasgow)
 
"Micro Residents exhibition" (Edinburgh Sculpture Workshop/Edinburgh)
2013
"Rock Paper Scissors werk op en van papier" (Galerie de Expeditie/Amsterdam)
"Commissioned Artist" (The Collection/Lincoln)
"Game Changer" (Meadowbank Stadium, curated by the Collective Gallery/Edinburgh)
 
"Paper" (Saatchi Gallery/London)
"Costume: Written Clothing" (Tramway 5/Glasgow)
 
"Title" (Newbridge Space/Newcastle upon Tyne)
 
"Jesmonite on Paper" (Malgras Naudet/Manchester, A3/Birmingham)
2012
"Pavilion" (David Dale Gallery & Studios/Glasgow)
 

"Arrives in Starting part of Glasgow International" (The Duchy/Glasgow)

2011
"LABF" (Whitechapel Gallery/London, domobaal/London)
 
"Look with all your eyes, Look" (Frith Street Gallery/London)
"Outpost Summer Fayre" (Am Nuden Da, Embassy, Grand Union, OUTPOST, Permanent/Norwich)
"The Chalet Prize" (The Chalet/Glasgow)
 
Collection
Saatchi Collection, David Roberts Collection, Jo en Marlies Eyck, Hedge House, The Netherlands
Keigo Kamide     artist page ≫
1981
Born in Ishikawa Prefecture, Japan
2006
BFA, Department of Fine Arts: Oil Painting, Tokyo University of the Arts
Lives/works in Nomi city, Ishikawa Prefecture, Japan
Solo Exhibition
2014
"Quiet Storm" (Yoshimi Arts/Osaka)
2013
αM Project 2013 "The Earthly Paradise" vol.3 Keigo Kamide (gallery αM/Tokyo)
"Floating" (Yoshimi Arts/Osaka)
2012
"Bananas" (pARa:siTe/Ishikawa)
2011
"Isolated" (Yoshimi Arts/Osaka)
2010
"Kutani Connexion" (Spiral Garden/Tokyo)
2009
"Art / Craft" (Oukashorin/Nagano)
2008
"Style" (Takagikoujisyouten/Ishikawa)
"Para:sideB" (pARa:siTe/Ishikawa)
2007
"Para:sideA" (pARa:siTe/Ishikawa)
Group Exhibition
2013
"Kutani Wagatani"' (G-WING'S gallery/Ishikawa)
'Renew Japanese Tradition "Shou"' (Wako Hall, Wako(Ginza)/Tokyo)
2012
"Primitive [ in order ]" (Yoshimi Arts/Osaka)
2011
Insight "Repetition" (ART OSAKA - Yoshimi Arts/Hotel Granvia Osaka/Osaka) 
2010
"BASARA" (Spiral Garden/Tokyo)
"First International Triennale of Kogei in Kanazawa" (21st Century Museum of Contemporary
Art, Kanazawa/Kanazawa)
2009
"Medicine and Art" (Mori Art Museum/Tokyo)
"Shokubutsu no Utsuwa" (G-WING'S Gallery/Ishikawa)
"Nowhere but Hayama Opening Exhibition" (Nowhere but Hayama/Kanagawa)
2008
"Kiryu Saien 14" (Kiryu Moriyoshi Koba/Gunma)
"Hako" (pARa:siTe/Ishikawa)
2007
"Kiryu Saien 13" (Kiryu Moriyoshi Koba/Gunma)
"Montblanc Young Artist Patronage in Japan" (Montblanc Ginza/Tokyo)
Collection
21st Century Museum of Contemprary Art, Kanazawa, Nomi City, Japigozzi Collection

Haruko Sasakawa     artist page ≫
1983
Born in Osaka, Japan
2005
Graduated from Department of 3DCG, Digital Hollywood
2009
Tokyo University of the Arts, B.F.A. in Inter Media Art
2011
Tokyo University of the Arts, M.F.A. in Inter Media Art
Student at Doctoral program in Inter Media Art, Tokyo University of the Arts
Lives and works in Ibaraki, Japan
Solo Exhibition
2013
"Study Room no.6221"- Documentation (Yoshimi Arts/Osaka)
"Study Room no.6221" (ART OSAKA-Yoshimi Arts/Hotel Granvia Osaka/Osaka)
2012
"For Your Safety M, ltd」OVER THE BORDER" (Art LAB OVER THE BORDER/Tokyo)
"case.D" (Yoshimi Arts/Osaka)
"case.C" (ART OSAKA-Yoshimi Arts/Hotel Granvia Osaka/Osaka)

"case.A" (Yoshimi Arts/Osaka)

Group Exhibition
2013
"The shiny future exhibition 2013, THE HUMANISATION" (Tokyo Metropolitan Art Museum/Tokyo)
"Figurative Abstraction" (Yoshimi Arts/Osaka)
Insight 8 "Figurative" (Yoshimi Arts/Osaka) 
2012
"Primitive [ in order ]" (Yoshimi Arts/Osaka)
2011
"the Civilization" (Ginza Seiou Gallery/Tokyo)
"Dessin / Écriture" (SPROUT Curation/Tokyo)
"floating view2 Topophilia Update" (Shinjuku Ganka Gallery/Tokyo)
Insight "Repetition II" (Yoshimi Arts/Osaka)
"Art Award Tokyo Marunouchi 2011" (Gyoko-dori Underground Gallery/Tokyo)
"floating view - new artists from suburbia"  (Tokyo Wonder Site Hongo/Tokyo)
2010

"The shiny future exhibition 2010, The Globalization By Haruko Sasakawa×BARBARA DARLINg"

(Tokyo University of the Arts/Tokyo)
2009
"No Man's Land MEMENTO VIVERE/MEMENTO PHANTASMA" (French Embassy's Previous

offices before their Destruction/Tokyo)

Public Collection
Japigozzi Collection