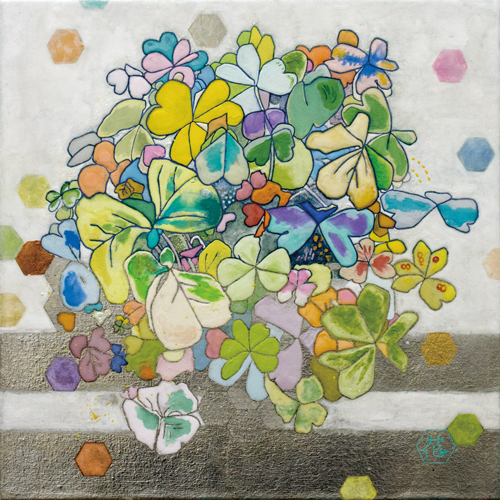 Hana Inoue "Geometry×Prism"
Sep 22 - Oct 15, 2017
11:00-19:00, Closed on Tue, Wed
Venue | Yoshimi Arts
Yoshimi Arts is pleased to present, "Geometry x Prism" a solo exhibition by Hana Inoue for the first time in six years.
Inoue creates stories based on sensations perceived from familiar things, which she paints with her rich colors. Her interest in geometric patterns inspired the works for this exhibition, which presents polygons, circles, color transformation, the refraction of light (prisms), and the nature of infinity. In addition to the paintings, sculptural pieces, which change with viewer intervention, will be exhibited.
We invite you to witness a world that we catch glimpses of in our everyday lives, in which geometric figures are transformed by light, and is transformed further by human intervention.
Yoshimi Arts
Last summer, I moved to an old house.
The windows of the house were made in the retrospective Showa-style that we rarely see nowadays.

The world seen through the frosted glass are only faint colors.
But the patterns engraved on the window are sharp and vivid.

The forms are inorganic, yet the deep, sensational movements have a warmth and danger to them.

The geometric patterns sprinkled on the glass create a colorful prism effect when the light passes through.

The word geometric brings to mind familiar forms and patterns seen in daily life, but originally, geometry was used to research the nature of space through the use of figures.
The theorem derived from this research continues to exist without humanity, and humanity cannot change the theorem.

However, the various changes that occur when the geometric figures go through a prism, and furthermore, the changes that occur when there is human intervention is examined through the exhibition, "Geometry x Prism".

Hana Inoue
image | 《14:20》 2017 pigments, metal leaf, cotton cloth, panel 333×333mm(S4)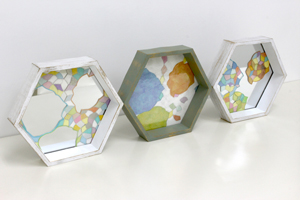 《Prism》 2017 pigments, metal leafl, hemp paper, acrylic plate, mirror, laminate
Hana Inoue ≫
1982
Born in Hiroshima Prefecture, Japan
2006
Graduated from the Department of Fine Arts (Japanese Painting), Hiroshima City University
2008
Completed Master Program (Japanese Painting) in Graduate School of Art, Hiroshima City
University
Solo Exhibition
2011
"Monogatari" (Yoshimi Arts/Osaka)
2009
"Ka・ra・fu・ru・zu" (Yoshimi gallery/Osaka)
Group Exhibition
2016
"Flag of the West 2016" (The Sato Museum of Art/Tokyo)
2015
"5th Anniversary Festival !!" (Yoshimi Arts/Osaka) ≫
"17th Setsuryosha-Firenze Prize Exhibition" (Setsuryosha Museum of Arts/Niigata, Tokyo
Metropolitan Art Museum/Tokyo, The Museum of Kyoto/Kyoto)
2014
Shiho Yamamoto / Hana Inoue "Fu you no jun sui, ki kyou no fu jun"~circuration and glitter~
(Yoshimi Arts/Osaka)
2013
"THE OSAKAN DREAMS VOL.3" (JR Osaka Mitsukoshi Isetan/Osaka)
2011
"Hana Inoue/Shiho YamamotoI" (Yoshimi Arts/Osaka)
"Garyu-sakura Japanese Painting Grand Praize Exhibtion" (Hidakuraiyama Cultural Exchange
Hall/Gifu, The Museum of Fine Arts, Gifu/Gifu)
Insight "Repetition II" (Yoshimi Arts/Osaka)
"Yoshimi Arts HANA'S ROOM" (BODAIJU FESTA-Yoshimi Arts/Ramada Hotel Osaka
/Osaka)
2010
Yoshimi Arts opening exhibition "0+" @KAM (KOBE ART MARCHE - Yoshimi Arts/Kobe
Portpia Hotel/Hyogo)
Yoshimi Arts opening exhibition "0+" (Yoshimi Arts/Osaka)
2009
"4Stories" (KOBE ART MARCHE - Yoshimi gallery/Crown Plaza Kobe/Hyogo)
"Hana Inoue/Shiho Yamamoto" (Daimaru Tokyo Art Gallery/Tokyo)
2008
"Geibi-kai Exhibition" (Fukuya Hacchobori/Hiroshima) 〈~2016〉
2007
"Shouhaku Art Museum Bird-and-flower Painting Exhibition" (Shouhaku Art Museum/Nara)
2006
"Taisei Sato Prize Art Exhibition" 〈~2007〉