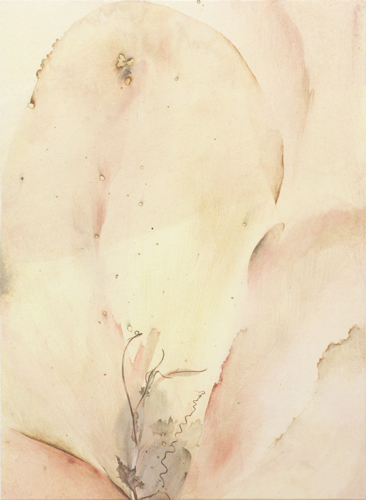 Shiho Yamamoto "Organic"
Apr 3 (wed) - 21 (sun), 2019
wed-sat 11:00-19:00, sun 11:00-17:00
Closed on mon, tue
Yoshimi Arts
Yoshimi Arts is pleased to present the solo exhibition "Organic" by Shiho Yamamoto.
Shiho Yamamoto has closely observed a wide array of living things, from humans, to plants and animals from a biological perspective, and had a deep interest in how these living things were interrelated with each other and in a constant cycle.
Yamamoto perceives that cycle as moving through all things organically, contiguously connected, without borders, brought together by a thin membrane like human muscle or skin.
This exhibition will focus on Yamamoto's two-dimensional works in which she skillfully layers washi (Japanese paper) like layers of skin. She draws plants and animals, so that the subjects and layers of paper become one.
image right | 《Sigh》 2018 Color on paper (pigments, Japanese paper, panel) 455×333mm(P8)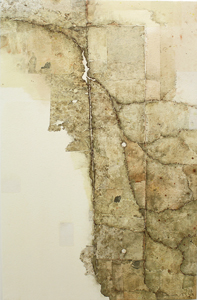 《Tangent》 2019 pigments, sumi ink, thin Japanese paper, hemp paper, panel 1000×652mm(M40)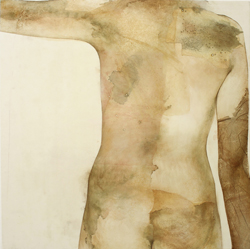 《I can't be free》 2019 pigments, sumi ink, thin Japanese paper, hemp paper, panel 910×910mm(S30)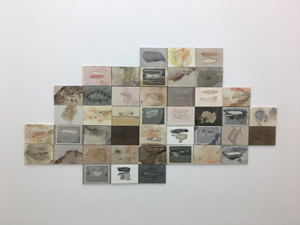 《Breast lump》 2019 pigments, sumi ink, leaf, root, Japanese paper, acrylic plate, plywood 603×1110mm([85×122]×43pieces)


We will participate in the event "Festart Osaka"
Festart Osaka (Japanese)|http://festart.net/
Shiho Yamamoto >>

1982

Born in Gifu Prefecture, Japan

2000

Graduated from Art Course in Gifu Prefectural Kano High School

2004

Graduated from the Department of Fine Arts (Japanese Painting), Hiroshima City University

2008

Completed Master Program (Japanese Painting) in Graduate School of Art, Hiroshima City University

Lives in Hiroshima

Solo Exhibition

2015

"Sosei" (Yoshimi Arts/Osaka)

2012

"Ubusuna" (Yoshimi Arts/Osaka)

2010

"Shin-on" (Yoshimi gallery/Osaka)

2009

"Shin-on" (Daimaru Kobe Art Gallery/Kobe)

Group Exhibition

2018

"The 103th Inten" (Tokyo Metroporlitan Art Museum/Tokyo, Matsuzakaya Art Museum/Nagoya, Fukuya/Hiroshima, Imai Museum/Shimane)

2016

"Flag of the West" (The Sato Museum of Art/Tokyo) 〈2018〉

2015

"5th Anniversary Festival !!" (Yoshimi Arts/Osaka) ≫

2014

Shiho Yamamoto / Hana Inoue "Fu you no jun sui, ki kyou no fu jun"~circuration and glitter~  (Yoshimi Arts/Osaka)

"New Year Japanese Painting Exhibition" (gallery G/Hiroshima) 〈2015〉

2013

"THE OSAKAN DREAMS VOL.3" (JR Osaka Mitsukoshi Isetan/Osaka)

2012

"Insight5 Re-recognition-landscape" (Yoshimi Arts/Osaka)

2011

"Hana Inoue/Shiho YamamotoI" (Yoshimi Arts/Osaka)

2010

Yoshimi Arts opening exhibition "0+" (Yoshimi Arts/Osaka)

2009

"Spring Inten : Exhibition of the Japan Fine Arts Institute" (Mitsukoshi Nihonbashi /Tokyo, etc.) 〈2012, 2014-2018〉

"Hana Inoue/Shiho Yamamoto" (Daimaru Tokyo Art Gallery/Tokyo)

2008

"Geibi-kai Exhibition" (Fukuya Hacchobori/Hiroshima) 〈2009, 2011-2017〉

"Garelia Reino Grand Prize Exhibition" (Garelia Reino Grand Prize Exhibition)

2004

"HOPES 2005" : Hiroshima Prefecture・Okayama Prefecture, Art University Exhibition for Selected Works (Fukuyama Art Museum/Hiroshima)

Collection

Hiroshima City University