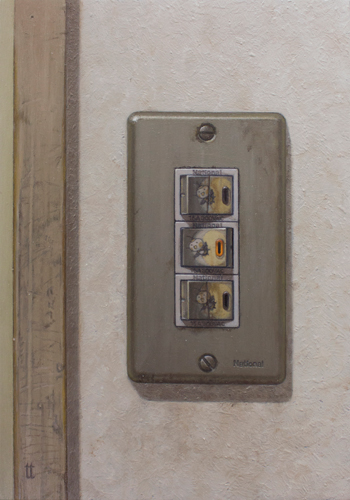 Takehiro Terabayashi -LIFE III-
Nov 25 - Dec 18, 2016
11:00-19:00 Closed on Tue, Wed
Yoshimi Arts
Yoshimi Arts will hold a  solo exhibition of Takehiro Terabayashi, "LIFE III", for the first time in two and a half years.               
In recent years while it has become a major trend for many artists to use various mediums such as photographs, Takehiro Terabayashi has been consistent in his style of drawing, spending most of his time in production standing right in front of the object to capture it through his eyes.
It can be said that, nowadays, where most people look at things via internet, objects are viewed two-dimentionally, and events as flat information.  On the contrary, Terabayashi has been creating works with an extreme obsession of looking at real things. He also says that what inspires him the most is when he selects motifs that make him feel special and genuine cravings for drawing. These words also describe the very essence of his works; what consists in his works are his urges to draw "insignificant things" that can be found in the day in the life of an ordinary household.
In this exhibition we will present objects and sceneries in and around his house that he has been drawing since the last solo exhibition, as well as his new works.
*Image: "Switch"  2016 oil, chalk ground, panel 227×158mm(SM)
1981
Born in Toyama Prefecture, Japan
2004
Graduated from the Visual Design Course, Faculty of Design, Nagaoka Institute of Design
2006
Completed the Master's Degree Program, Department of Painting (Oil Painting), Graduate
School of Arts, Hiroshima City University
Lives and works in Hiroshima
Solo Exhibitions
2015
"LIFE" (gallery G/Hiroshima)
2014
"Takehiro Terabayashi 2008-2014" (Yoshimi Arts/Osaka)
"LIFE" (Art Fair Tokyo - Yoshimi Arts/Tokyo International Forum/Tokyo)
2013
"LIFE II" (Yoshimi Arts/Osaka)
2011
"LIFE" (Yoshimi Arts/Osaka)
2008
Solo Exhibition (gallery Motomachi/Kanagawa)

Group Exhibitions

2015
"Building・Landscape V" (Arakawa Gallery/Tokyo)
"5th Anniversary Festival !!" (Yoshimi Arts/Osaka) ≫
"Viewpoint of three art" (Art Gallery, Daimaru Sapporo store/Sappro)
2012
"Realism of Each Artists" (Art Gallery Koyukan/Saitama)
"Building・Landscape IV" (Arakawa Gallery/Tokyo)
"Physical side II" (Yoshimi Arts/Osaka)
"Insight" Art Fair Tokyo - Yoshimi Arts (Tokyo International Forum/Tokyo)
2011
"Beauty is in the details" (Nihonbashi Takashimaya Art Gallery/Tokyo)
ART OSAKA (ART OSAKA - Yoshimi Arts/Hotel Granvia Osaka/Osaka) <2013, 2014>
"Physical side" (Yoshimi Arts/Osaka) 
2010
Yoshimi Arts opening exhibition "0+" (Yoshimi Arts/Osaka)
"The Light – Portraits of the Hibakusha" (Brunei Gallery, University of London/London)
"Shiho Oda・Takehiro Terabayashi -Real-" (Selected Artists Of Gallery In KYOTO-Yoshimi
Arts/Kyoto Tokyu Hotel Gallery kazahana/Kyoto)
"Human Landscape" (Arakawa Gallery/Tokyo)
2008
"Junichi Ishida・Takehiro Terabayashi" (Gallery Motomachi/Kanagawa)

2006
"RUBICON" (Toho Art/Tokyo, Tenmaya Hiroshima-Hacchobori/Hiroshima)〈-2010〉
2005
"The Light – Portraits of the Hibakusha" (Hiroshima City University Art Museum/Hiroshima)
〈,2006, 2008〉
2004
"Hakujitsu Exhibition" (Tokyo Metropolitan Art Museum/Tokyo〈,2006,2007〉,The National Art
Center, Tokyo/Tokyo〈2008-2011〉)
Awards
2014
"The 6th Koji Kinutani Award" Encouragement prize
2006
"Hakujitsu Exhibition" Hakujitsu prize (Tokyo Metropolitan Art Museum/Tokyo)
2003
"The 5th Setsuryosha-Firenze Prize Exhibition" Fine work prize (Setsuryosha Museum of
Arts/Niigata)