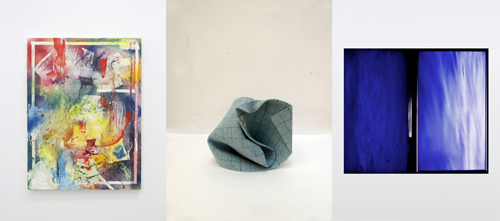 "Material and Form" in a digital age II
Rachel Adams/Mizuki Kakinuma/Haruko Sasakawa
Oct 28 - Nov 20, 2016
11:00-19:00 Closed on Tue, Wed
Yoshimi Arts
Yoshimi Arts is pleased to present the group exhibition "Material and Form" in a digital age II.
Since the Meiji period, Japanese artists have always tried to absorb western culture. It has been 60 years since the 1950s, when the Japanese art world first confronted this new concept of "contemporary art". Since then, contemporary art has grown into a global omnipresence. Rather than merely imitating western contemporary art, there is a growing visibility of a generation of artists in Japan that take advantage of the omnipresence of contemporary art as a means to express the richness of Japanese culture. Additionally, historical movements such as Gutai and Mono-ha are gaining traction in the United States and the UK.
In 2014, Yoshimi Arts put on "Material and Form"in a digital age, an exhibition of the work of three artists working in the digital era. The objective of the exhibition was to investigate and consider the material and its significance through visualizing the similarities and differences between the work of the three artists, who approached the material in their respective ways. For this next show, we will once again be exhibiting Rachel Adams and Haruko Sasakawa, who will be joined this time by Mizuki Kakinuma.
Rachel Adams had a solo exhibition at Yoshimi Arts in 2015 titled "Open Studio". In the same year she was selected for the Sainsbury Scholarship in Painting and Sculpture which allowed her to spend a year in Rome. Her work was deeply influenced by the change in environment from Glasgow, where she normally works, to Italy, where she came into contact with the rich history, the climate, and the people. She will exhibit the work she created while in Rome.
Haruko Sasagawa has been examining social issues through her work. Furthermore, she looked back on how art and design was used as a form of media during the war for her doctoral thesis. She will continue to create work about the relationship between the media and people.
Mizuki Kakinuma has had 4 solo shows between 2012 and 2016. Although oil on canvas had been his medium of choice, for his solo show in 2014 he exhibited mixed media work, using ropes, pieces of cans, nails, chunks of paint medium, aluminum plates, burning the canvas, and lacquer, in addition to the traditional oil on canvas. Artists using oil paints, nihonga materials, and crafts sometimes tend to have unadulterated enthusiasm towards these specific materials, or are hesitant in using other materials either from lack of knowledge in the background or material itself. Kakinuma, however, integrates new materials without hesitation. For this exhibition he will be presenting work made with new techniques and processes.
*Image:
Left | Mizuki Kakinuma Work 2016-july (a.) 2016 mixed media 609×455mm(P12)
Center | Rachel Adams Sleeve 1 2016 felt, thread, buttons 23×14×h21cm
Right | Haruko Sasakwa, illustrative image
Rachel Adams ≫
1985
Born in Newcastle upon Tyne, UK
2009
MA in Fine Art University of Edinburgh and Edinburgh College of Art
Lives/works in Glasgow, Scottland, UK
Solo exhibition
2015
"Open Studio" (Yoshimi Arts/Osaka) ≫
2014
"How to live in a flat" (The Tetley/Leeds)
"Long Reach" (domobaal/London)
2013
"Suburban Mystic" (The Lombard Method/Birmingham)
"Space–Craft" (Tramway 5/Glasgow)
2012
"Posturing" a solo project within The Sculpture Show (Scottish National Gallery of Modern
Art/Edinburgh)
"Refurnished" (Galerie de Expeditie/Amsterdam)
2011
"Cut From Whole Cloth" (domobaal/London)
 
"Marble Mouthed" (The Duchy/Glasgow)
Group exhibition
2014
"Material and Form" in a digital age (Yoshimi Arts/Osaka) ≫
2013
"Paper" (Saatchi Gallery/London)
Award
2015
Sainsbury Scholarship in Painting and Sculpture (full year), The British School at Rome, Italy
2014
Henry Moore Foundation Project Funding
Creative Scotland Award
Arts Trust Scotland Award
2012
Visual Arts & Crafts Award (Edinburgh City Council)
2009
Visual Art creative and professional development grant (Scottish Arts Council)
Visual Arts & Crafts Award (Edinburgh City Council)
Andrew Grant Award (Edinburgh College of Art)
Collection
Saatchi Collection, David Roberts Collection, Jo en Marlies Eyck, Hedge House, The Netherlands
Mizuki Kakinuma ≫
1989
Born in Tokyo, Japan
2011
Graduated from the Department of Fine Arts: Oil Painting, Tohoku University of Art and Design
Lives and works in Saitama Prefecture
Solo Exhibition
2016
"Passion - Mizuki Kakinuma" (Yoshimi Arts/Osaka) ≫
2014
"Billows - Mizuki Kakinuma" (Yoshimi Arts/Osaka) ≫
2013
"Mizuki Kakinuma solo exhibition" (Yoshimi Arts/Osaka) ≫
2012
"Mizuki Kakinuma solo exhibition" (Yoshimi Arts/Osaka)
Group Exhibition
2015
"5th Anniversary Festival !!" (Yoshimi Arts/Osaka) ≫
"Viewpoint of three art" (Art Gallery, Daimaru Sapporo store/Sapporo)
"Hito Naru, Koto Naru" (Gallery Shinjuku-za/Tokyo)
2013
"Figurative Abstraction" (Yoshimi Arts/Osaka) 
Insight 8 "Figurative" (Yoshimi Arts/Osaka) 
2012
"Primitive [ in order ]" (Yoshimi Arts/Osaka)
2011
"Physical side" (Yoshimi Arts/Osaka)
Collection
Japigozzi Collection, Takahashi Collection
Haruko Sasakwa ≫
1983
Born in Osaka, Japan
2005
Graduated from Department of 3DCG, Digital Hollywood
2009
Tokyo University of the Arts, B.F.A. in Inter Media Art
2011
Tokyo University of the Arts, M.F.A. in Inter Media Art
2016
Tokyo University of the Arts, D.F.A in Inter Media Art
Currently lives and works in Ibaraki, Japan. Assistant at Tokyo University of the Arts
Solo Exhibition
2015
"Recollection - Human Torpedo" (The University Art Museum, Tokyo University of the Arts
/Tokyo)
"ROBOTS" (Yoshimi Arts/Osaka) ≫
"AD" (ART FAIR TOKYO - Yoshimi Arts/Tokyo International Forum/Tokyo) ≫
2013
"Study Room no.6221"- Documentation (Yoshimi Arts/Osaka)
"Study Room no.6221" (ART OSAKA-Yoshimi Arts/Hotel Granvia Osaka/Osaka)
2012
"For Your Safety M, ltd」OVER THE BORDER" (Art LAB OVER THE BORDER/Tokyo)
"case.D" (Yoshimi Arts/Osaka)
"case.C" (ART OSAKA-Yoshimi Arts/Hotel Granvia Osaka/Osaka)
"case.A" (Yoshimi Arts/Osaka)
Group Exhibition
2015
"SENSOU-GA STUDIES" (Tokyo Metropolitan Art Museum/Tokyo)
2014
"Material and Form" in a digital age (Yoshimi Arts/Osaka) ≫
"Art Court Frontier #12" (ARTCOURT Gallery/Osaka)
2013
"The shiny future exhibition 2013, THE HUMANISATION" (Tokyo Metropolitan Art Museum
/Tokyo)
2011
"Art Award Tokyo Marunouchi 2011" (Gyoko-dori Underground Gallery/Tokyo)
"floating view - new artists from suburbia"  (Tokyo Wonder Site Hongo/Tokyo)
Award
2015
Japan Arts Scholarship, Japan Arts Foundation
2007
Ataka Prize, Tokyo University of the Arts
Collection
Japigozzi Collection